Enabling others to act
When Paddy Treavor encounters an injustice, or finds himself in an unfair situation, he has a habit of taking action to make things right.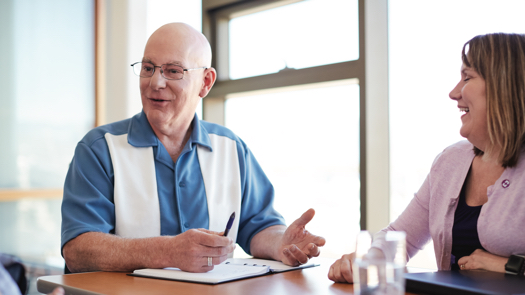 So it comes as no surprise to find out that union activism has been a part of his life from an early age.
"I can remember being in high school when the support workers were on strike. The faculty had closed all of the washrooms in the school, except for one, which had one toilet," he says. "And for some reason they removed the stall door."
Treavor then recounts a day in assembly when the principal started to lecture the students about how messy the bathroom was. "I stood up and made an impromptu speech about how unfair it was for the entire student body to be forced to use one bathroom while the teachers had their own in their lounge, and how humiliating it was for a teacher to have removed the stall door," he recalls. "I then led an impromptu walkout and the majority of students left the auditorium and joined the locked-out support workers on the picket line in front of the school."
The next day Treavor was called into the principal's office, but instead of being reprimanded, he was recognized for standing up for what he believed in. "I think that was the first time that I realized there was real strength in unity – and the faculty opened up more bathrooms and left the stall doors on!"
Treavor's union activism continues to this day. He currently works in community mental health on the intensive case management team in Powell River. He is a steward and also serves as mental health advocate on the BCNU Coastal Mountain regional executive.
Treavor moved to Powell River six years ago to raise a family away from the big cities he had called home for most of his life. In many ways, he has finally settled down after travelling much of the world and working a variety of occupations in his 20s and 30s.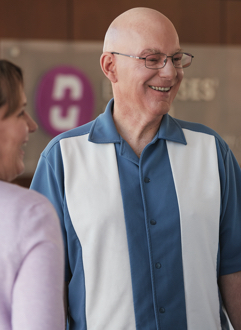 "I spent some time with the Pacific Legal Education Association, working with young offenders in a diversion program. We had a small bargaining unit and I was elected to represent them when I was 24 years old," he says. "As a BCGEU activist I helped negotiate a new contract after being on strike for three Weeks."
Treavor then worked as a letter carrier from 1994 to 1998, delivering mail in Vancouver's Downtown Eastside. After more travel, he came home for good in 2000, got a job in accounts with Telus, was soon laid off and began working in Vancouver's craft beer industry.
"One of my best friends had been a psychiatric nurse for 10 years and he told me that he thought I would be perfect in the role," he recalls. "My communication skills allow me to adapt to varying situations and read people."
Treavor took the challenge and started nursing school in 2004 at the age of 41. After graduation he worked at the Burnaby Hospital inpatient unit and acute psychiatry at Vancouver General and Lions Gate hospitals.
He has no regrets about his mid-life career move. "There's been a huge amount of variety, from working at busy urban psychiatric inpatient units to a small seven-bed inpatient unit up in Powell River to now working in community mental health intensive case management, which is completely different."
It didn't take long for Treavor's activist instincts to kick in after settling in at Powell River General Hospital.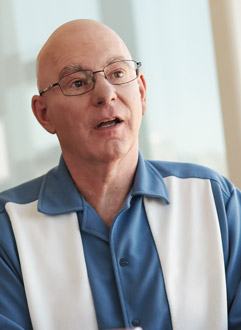 "I discovered there was really no union presence on the psychiatry unit where I worked, there was a set way of doing things and people were afraid of management," he reports. "I was new in town, new to the unit and had no allies and so that allowed me to call out some of the cultural practices that were established. I started questioning things and challenging 'the Powell River way.' Soon, management started coming after me."
Treavor found he was often fighting battles that others had given up on due to the culture of bullying and intimidation.
"But it was good to have support from BCNU while I stuck my head out and made waves."
"We started filing grievances and got incredible support from our LRO and regional chair. Some managers have since retired, the relationship is now more collaborative and the employer will consult staff before making changes."
What's the secret to effecting cultural change for the common good? "It takes persistence, leading by example, and taking up issues on your own, all the while encouraging others to follow," explains Treavor. "I have slowly been able to get the staff to embrace unity, show strength and effectively address issues."
Treavor no longer works on the unit but he's still there supporting, encouraging and leading the charge when necessary. "I find I am no longer totally alone, there's hope and some positive changes have transpired."