Encouraging the heart
When talking with Bal Borchert, it quickly becomes clear that she's committed to helping nurses succeed.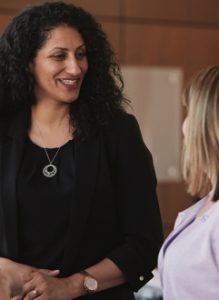 The BC Women's Hospital nurse and BCNU steward works full time in the facility's obstetrical unit, providing care for new mothers struggling with substance use and managing infant withdrawal. It's specialized work that comes with its own unique challenges and rewards.
In addition to providing care for her patients, Borchert is also focused on ensuring that new nurses are trained and available to do her work after she retires. That's one of the reason's she's served as a final preceptor to student nurses for most of her tenure at the hospital.
"Witnessing these students become new nurses and find their confidence has been one of the most rewarding aspects of my entire career," says Borchert.
"I've been preceptoring for the past 19 years," she reports. "I've been able to impart my nursing knowledge and support students' own growth and skill development, while also learning from them."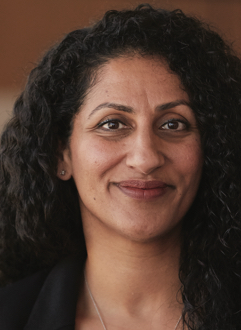 Borchert values the reciprocal relationship that occurs when preceptees come to her unit with new, innovative ideas and the latest theories about nursing practice.
"Students come from school with a huge amount of knowledge and the theory to back it up," she explains. "There's no way for working nurses to stay on top of all of the current literature as is evolves so quickly, but new grads are on the cutting edge."
This recognition and appreciation of individual's contribution to the team is an important part of Borchert's leadership practice. "It's important to encourage the heart by appreciating excellence and creating a spirit of community," she says. "As these nurses gain confidence and comfort I have them present in rounds so that they can provide their unique perspective to the team.
"As a preceptor, I have been able to celebrate successes in big and small ways and we honour them as they complete their final day on the unit".
Borchert stays in touch with many preceptees and often celebrates both professional and personal milestones with them. "I remain available as a mentor, sounding board and friend to many of the nurses I have preceptored," she says. "Together we have created a sense of community, and these nurses have continued to keep in touch to let me know of their accomplishments and to receive ongoing support."
"I'm also lucky enough to currently work alongside some of my former preceptees, and witnessing them now as they preceptor their own students – that's my happiest moment."
Borchert is Richmond born and bred, and she credits her parents' work in the community as a model of kindness and compassion that led her to nursing.
"My parents are immigrants from India and arrived here about 50 years ago, and once they settled into their life in Canada, they helped many other newcomers to this country by providing their home and resources so these individuals could find stability in their new homeland – we always had a friend or family member staying at the house," she recalls.
"The values I saw them display when helping strangers is the cornerstone of how I practice as a nurse," she reflects. "They taught me to look beyond merely healing the physical, but of also to seeking to heal the heart. I am truly grateful for their love and support."
Borchert has been involved with BCNU for many years, but it wasn't until 2016 that she decided to take a more active role, becoming a steward in 2016 and serving on the Shaughnessy Heights region executive as lobby coordinator since 2017.
"I initially wasn't interested in being lobby coordinator," she admits, "but the role found me. [Shaughnessy Heights region chair] Claudette Jut asked me to try out the job for a day. It felt like a bit of an ambush," she laughs, "but it was one of the most fortuitous moments, and it has been a great fit so far."
Borchert reports that the role of lobby coordinator has presented her with many great opportunities to step outside of her comfort zone and build working relationships with political allies.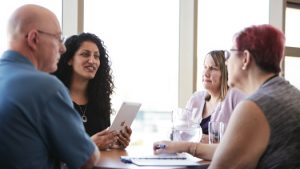 "I don't see myself as a very political person," confesses Borchert, "but I knew that our issues were important." It wasn't long before she found her footing.
"I tell you it's other people in the union who are really good at building each other up. The person who did that for me was [Pacific Rim region lobby coordinator] Kelly Woywitka when she said, 'you don't have to be political to impact change. I don't know about politics but I know about nursing.' That was so inspiring and I'm so passionate about the role now."
That passion was on display during New Westminster's Recovery Day held Sept. 8, 2018. Part music festival, part carnival and part educational event, the day celebrates survivors, remembers those lost, and works to raise awareness for recovery while reducing the stigma of substance use.
Borchert and other BCNU regional lobby coordinators took the opportunity to speak to MLAs and municipal politicians about nurses' direct experience treating substance use and confronting the ongoing opioid crisis.
"I have worked for the past 16 years on a hospital unit with marginalized persons who face stigma daily and distrust the health-care system," says Borchert. "Significant steps still need to be taken to address the opioid crisis."
"Nurses are leaders who understand the challenges patients and communities face. When we speak, people listen."