Marva Vidal and Mabel Walcott have a lot in common. Colleagues, good friends and leaders within the union, the pair radiate wisdom and quiet strength as long-term care nurses at Delta Hospital.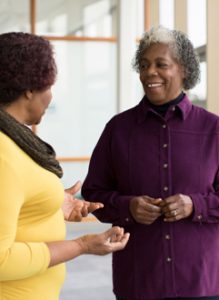 Mabel and Marva met nearly 30 years ago, working at George Derby Centre, both loving their jobs at the venerable long-term care hospital where they were part of a close-knit nursing team known for high standards of care and compassion.
In 2016, Mabel and Marva also shared the heartbreaking experience of being forced out of those jobs when the hospital, now in private hands, contracted-out nursing staff. Nearly 100 BCNU nurses were laid off in 2016, in a move the owners say was financially necessary to keep operating the 300-bed facility.
"It was very, very difficult," says Marva. "Everybody knew each other. The patients even knew our kids and grandkids. It was a very close, tight-knit place to work. We thought the new management would make some changes, but we did not expect contracting-out."
350+ people attended the candlelight vigil at George Derby100% of nurses placed in new jobs following the layoffs at George Derby
For Mabel, Marva and their colleagues, it was painful, professionally and personally. The worst part for them? Seeing the impact on George Derby's patients and their families.
"They had to start over, in a brand new environment," says Mabel, "They were very, very distraught."
And with good reason. The RNs left first, with LPNs like Mabel staying on for some months.
In May, BC Nurses' Union stood up in support of the affected residents, with a candlelight vigil at George Derby. More than 350 nurses and family members, all dressed in black, showed up in solidarity.
"It was a very solemn occasion. Tears were rolling down the cheeks of family members, staff, and the residents who could come out to participate," recounts Mabel. "This was just proof, from my point of view, that BCNU was standing up for seniors. And also for our members."
Speaking at the vigil, BCNU president Gayle Duteil labelled the contracting-out, "An unacceptable strategy for seniors' care." The vigil was an expression of the union's role as a respected voice for quality public health care.
BCNU, however, did much more than mourn the layoffs — the union had just negotiated a new contract provision requiring the health authority to find new jobs in the system for members laid off due to contracting-out, which applied directly to George Derby members.
President Duteil explains the union's "two-pronged" response to contracting-out: Arguing strongly against it, while at the same time negotiating to protect members if it happens. For the 67 LPNs and 31 RNs at George Derby, the breakthrough gain came just in time.
"BCNU went to bat for us. To be honest, I didn't think I could work in another place, but I'm enjoying my new job," says Mabel.
It was good news in an otherwise sad story of eroding standards.
"We all worked very long hours, had many meetings, and even then some members didn't think they would have a job. But at the end, everybody did. We had no loss of benefits, or pay, or anything, says Marva. "But we all miss the residents."
Marva and Mabel want BCNU and its members to keep up the fight for quality seniors' care: "As members, we have to really stick together and work together, and lobby the MLAs, seniors advocate groups, and with patients' family members," says Mabel.
Marva adds, "It all makes me wonder, though. What is happening to seniors' care? You know, they are so frail. Who is speaking up for them? Where's the voice for the seniors?"
Good questions. One persistent voice is BC Nurses' Union. BCNU continues to engage members and bring public attention to improve our publicly funded health care system — and protect it from the kind of deterioration Mabel and Marva witnessed at George Derby last year.
One can only imagine what the facility's founders, who opened in 1947 with high ideals and a commitment to excellence, would think of this downgrading in the care of our most vulnerable people.